Downloadable writings and other material by Ben Gadd
On this page Ben has posted material that is often requested. Feel free to keep what you wish, but only for your own, non-commercial use.
Please remember that if you are borrowing something from any of Ben's writings — a sentence or a paragraph for a school assignment, say — you must give him proper credit as the author. If you fail to do this, you are committing plagiarism. If you're not sure what "proper credit" means, please read Ben's student handout on the subject: Guide to References. It explains how to avoid plagiarism.
---
New! Classic Canadian Rockies Geology, a large geological map that covers the area between Canmore and Golden. It's beautiful. It's also 84 megs, so it takes a while to download.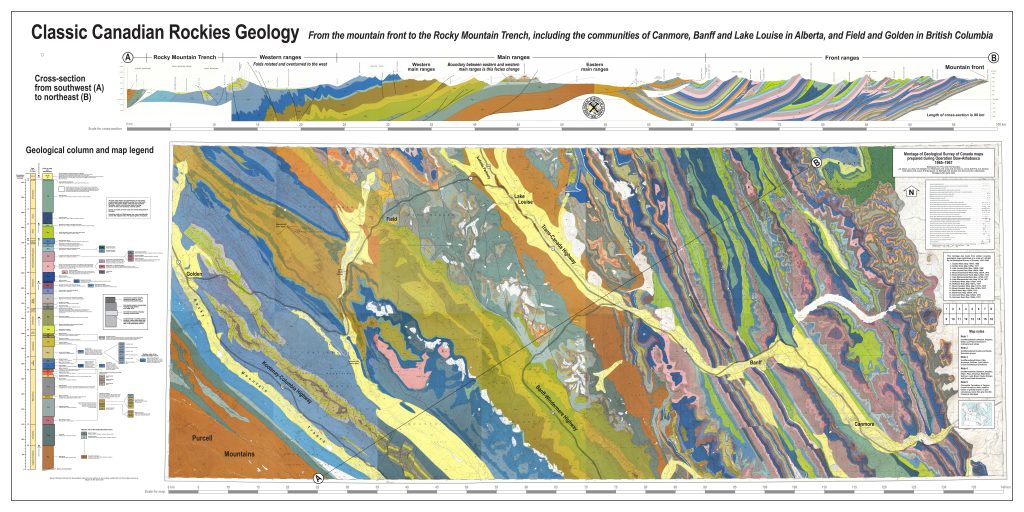 ---
New! Now you can hear Ben reading Raven's End. The whole thing.
---
GPS waypoints, rock-testing acid and updates for Canadian Rockies Geology Road Tours
Canadian Rockies Panorama from West of Calgary
---
Essays and lectures
Some of these items have been included in Ben's book An Orogenous Life, Memoir and Reader. More about that book here.
Conservation, from Chaucer to Smokey Bear
Creationists vs. Geologists and Evolutionists
Saving the National Parks from Politicians
Six Good Reasons to Save the Wilderness
Why Ski Areas Don't Belong in National Parks
Why We Need Wilderness, and Why I Love My Job
Despairing of the Despoilers but Having a Good Life Anyway  Ben's longest essay, written mainly for his fellow environmentalists. It's a provocative read.
Climbing guide
Climbing at Wasootch Slabs   Ben's 1980 back-pocket guide to 50 routes at this popular one-pitch climbing area southwest of Calgary along Highway 40. Long out of print (and out of date, too), but amusing, still useful and available here as a free PDF download.
---
Geological
Classic Canadian Rockies Geology.   Montage of sixteen Geological Survey of Canada maps providing 1:50,000 coverage of the rectangle encompassing Canmore, Alberta in the southeast portion and Golden, British Columbia to the northwest. Includes a stunning geological cross-section showing the various divisions of the Rockies at this latitude. The PDF is 84 MB. Feel free to download it for your own personal use, not for any commercial purpose without Ben's consent.
Mountain-building animation by Glen Stockmal   Very cool to watch! And applicable to the Canadian Rockies. Many thanks to Glen for letting Ben post this.
Differential Erosion of the Bow Valley   Why the front ranges of the Canadian Rockies are grander and more rugged now, after many millions of years of erosion, than they were at the end of mountain-building. Animation and narration by Jerry Auld. The WMV file is twelve megs, so it takes a while to download. If it fails to start by itself, go to the downloaded file and run it from there.
Extinction Event Factsheet    Essential info about the five major extinction events known, with their geological dates, effects and probable causes. Also speculates that we are currently experiencing the sixth.
Brief History of Coal-mining in the Bow Valley   Historical summary.
Coal-mining in the Bow Valley map   Shows the area underlain by mine tunnels and where the sealed mine entrances are located.
The Exshaw Quarry on Grotto Mountain, near Canmore, Alberta
and possible rock-slide hazard in the area  Report on Ben's concerns.
Geological time scale   Latest listing of geological periods, etc.
Geology glyph   Here is Ben's interesting graphical take on the word "Geology."
Geology of the Canadian Rockies and Columbia Mountains   Short summary.
Grassi Lakes geology map   The trail to Grassi Lakes is a popular short hike near Canmore. The geology seen along the way is outstanding.
Grassi Lakes photo of rock units crossed by the trail Accompanies the geological map above.
Grassi Lakes geology field trip notes   Detailed trail guide for leading this hike.
Geology of Johnston Canyon   Another popular trail, this one in Banff National Park near Castle Junction.
Geology of Jasper National Park   Geological map that originally accompanied Of Rocks, Mountains and Jasper, by Chris Yorath and Ben, published in 1995.
Identifying rocks and preparing testing acid   How to tell quartzite, limestone and dolostone apart in the Canadian Rockies. Also shows you how to make your own dilute hydrochloric rock-testing acid from paint-store muriatic.
Ben's favorite road cut in the Canmore area, annotated photo   Wonderfully folded and faulted siltstone and coal beds in the Mist Mountain Formation.
---
Raven's End video & Audio Book
The short promotional video for Ben's only novel can be seen here.
Asked for an audio version of the novel for use by special-needs students, Ben recorded himself reading it. Now you can hear it, too. It's a free noncommercial download for your personal use. Click here to see the files.
---
Short story
The Gathering Place  A tale of the winter solstice. It begins in a shopping mall . . .
---
Music
You may enjoy hearing Ben's better-known compositions by clicking on the links below.
Re the songs, Ben apologizes for his singing voice, which is geriatric (he was 71 when the so-so home recordings were made) and not very good even when he was young. And the guitar-playing is, well, rusty. But if you want to learn one of Ben's songs, then listening to it may be the only way to pick up the tune, because Ben never did acquire the skill of writing musical notation.
Lyrics are included on the web pages, and the guitar chords are shown.
Canadian Rockies Suite guitar music   Instrumental piece, played reasonably well in 2013. It's a home recording on an inexpensive device — a little Zoom H2N "Handy Recorder" — but it's digital and not too bad.
Colin the Raven   Kids' song arising from Ben's novel Raven's End.
Mean Old Man   Song Ben wrote about one of his son Willy's nightmares. There's more about this in Ben's memoir, page 207.
Songs for Benny and Mo   Silly songs written by Ben's dad when Ben and his brother Morgan were small.
Warning to the Park Animals   Amusing song. More about it in Ben's memoir, page 359.
---
Outdoor-equipment lists
Equipment List for Short Backpacking Trips
Equipment List for Summer Backpacking
Equipment List for Icefield Skiing
For elementary/jr-hi students and their teachers
Story of the Earth (Cosmology for Eight-year-olds)
Dr. Bruin's Very Pedantic Jasper Quiz
Items Ben handed out in his post-secondary English classes
Guide to References   Amusing approach to this necessary academic drudgery.
Editing Symbols for Marking Student Papers   "Papers" produced on actual paper. These days, when so many assignments are handed in digitally, marking them up by hand is becoming a lost art. Here's how Ben used to do it.
---
Miscellaneous
Cataract surgery   In 2016 Ben had his cloudy vision fixed by getting the natural lenses inside his eyes replaced with artificial ones. If you, too, have cataracts, or you are just wondering about this common procedure, Ben's account will be a good read.
Tunnel in Mt. McGillivray   A strange Cold War project that was never completed, this interesting feature is easily reached along the Trans-Canada Highway east of Canmore.
Wolverine humor item for a writers' workshop   Wolverines are funny? Yes, when Ben writes archly about them.
The Saturday School: How It Began, by Robert Stamp 1972 Short account of how Ben and his wife Cia joined a number of other Calgary families in starting an alternative elementary school. This is a 28MB download, so it takes a while.
Fixing problem with faulty cord connectors on window shades from selectblinds.ca This proves what a nerd Ben is. It can also save the day for anyone who, like Ben, installed a houseful of cheap blinds from this company and then found them to be defective.