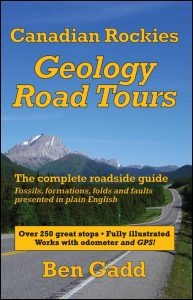 Ben has been asked many times to write a book like this, and here it is: a guide to the geology you see along all the major highways of the Canadian Rockies, from the Waterton area to the far northern end of the Rockies. The first printing sold out in a year. It was reprinted in 2009, with a number of worthwhile updates and corrections.
The Trans-Canada Highway, Icefields Parkway, Crowsnest and Yellowhead routes, the Rockies portion of the Alaska Highway and more are all covered in loving detail, with minimal geo-jargon.
Over 500 illustrations, including many annotated photos with the various rock units, folds and faults marked. GPS waypoints, too!
Endorsed by professionals and suitable for field courses.
576 pages, soft-cover, B&W, index
Published by Corax Press, 2008
Distributed by Alpine Book Peddlers
ISBN 978-0-9692631-2-8, Cdn $28.50
To download the waypoints used in Canadian Rockies Geology Road Tours and get the latest updates. Click here.