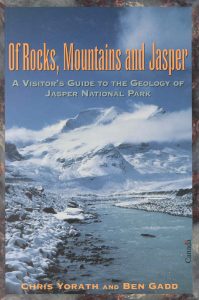 Road-log guide to the geology of Jasper National Park, written for the public.
170 pages, soft-cover, B&W with color section, many illustrations, index
Published by the Geological Survey of Canada and Dundurn Press, 1995.
ISBN 1-55002-231-8
Out of print for many years, but recently made available again through print-on-demand (POD) or as an e-book. More at https://www.dundurn.com/books/Rocks-Mountains-and-Jasper
The geological map of Jasper National Park that accompanied the original edition is in the public domain and freely downloadable here.